Our annual Missions Week and Banquet are typically held in March. Each year we are excited and humbled to hear several missionaries as they visit us to give their testimonies and the vision God has laid on their hearts for missions. On Wednesday night of that week, we hold a banquet feast with great fellowship while enjoying a mission-centered program featuring musical entertainment and a guest speaker. Please visit our Calendar to see this year's schedule of events.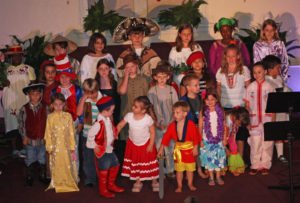 Key Largo Baptist Church is a mission-minded church, which means we have a vision to reach souls around the world with the Gospel of Jesus Christ. The KLBC Missions Program is about an active partnership between us and our missionaries. We are counting on them to share Jesus Christ, and they are counting on us to meet their financial needs. We are a TEAM!
It is our privilege to provide monthly support to twenty missionary families. For more information about the missionaries we support and what our church is actively doing to fulfill the Great Commission, Click Here.